The countdown has begun, with less than a day to go before it's officially Thanksgiving! Besides the obvious part of being grateful for life and the countless other things an individual should be thankful for, comes the FOOD! Hopefully you'll be surrounded by loved ones and loads of food. Turkey, dressing, mashed potatoes, I can practically smell them now. If you're opting to stray from wine, or champagne, try these simple (delicious) cocktail recipes to pair with your dinner!
POMEGRANATE ORANGE PUNCH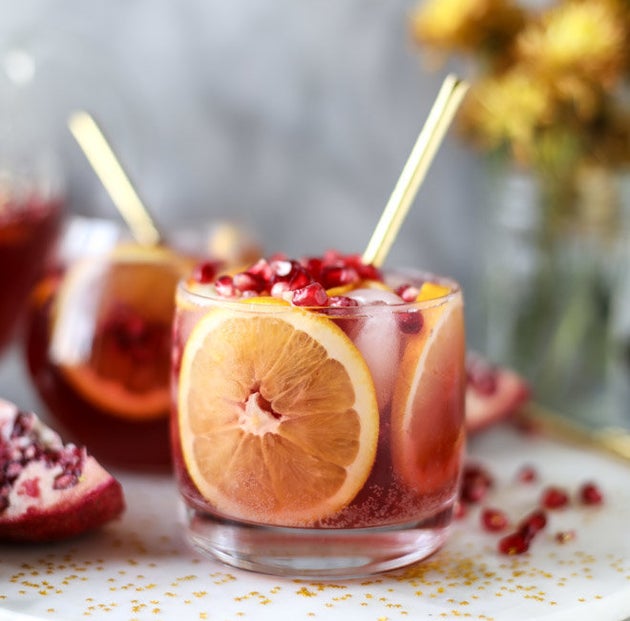 ingredients:
1 bottle semi-dry champagne
8 ounces pomegranate juice
8 ounces ginger beer
4 ounces orange juice
2 ounces vanilla ginger syrup
2 oranges, thinly sliced
1/3 cup pomegranate arils
APPLE BRANDY HOT TODDY
1 1/2 cups water
2 tablespoons plus 2 teaspoons honey
1/2 cup fresh lemon juice
2 cups apple brandy, preferably Calvados
Eight 3-inch cinnamon sticks
In small saucepan, bring the water to a boil. Remove from the heat and stir in the honey until dissolved. Stir in the lemon juice and apple brandy. Set a cinnamon stick in each of 8 mugs or heatproof glasses, pour in the hot liquid and serve.
APPLE CIDER MOSCOW MULE
3 ounces Vodka
4 ounces Hard Cider
1 ounce Lime Juice
12-16 ounces Ginger Beer
Ice to fill
In two 16-ounce copper mugs (or equivalent) add half the vodka, hard cider and lime juice. Fill with ice and with ginger beer. Garnish with lime wedges or apple slices if desired.
CARAMEL APPLE MIMOSA
2 tbsp. Caramel
2 tbsp. cinnamon sugar
1 c. apple cider
8 oz. caramel vodka
1 bottle champagne
Apple slices, for garnish
In a small dish, pour caramel sauce. In another small dish, pour cinnamon sugar. Dip champagne flutes into caramel to rim glass, then dip in cinnamon sugar. Pour apple cider, caramel vodka, and top with champagne into flutes. Garnish with an apple slice and serve.
#HAPPYTHANKSGIVING!